Cloudforest of Singapore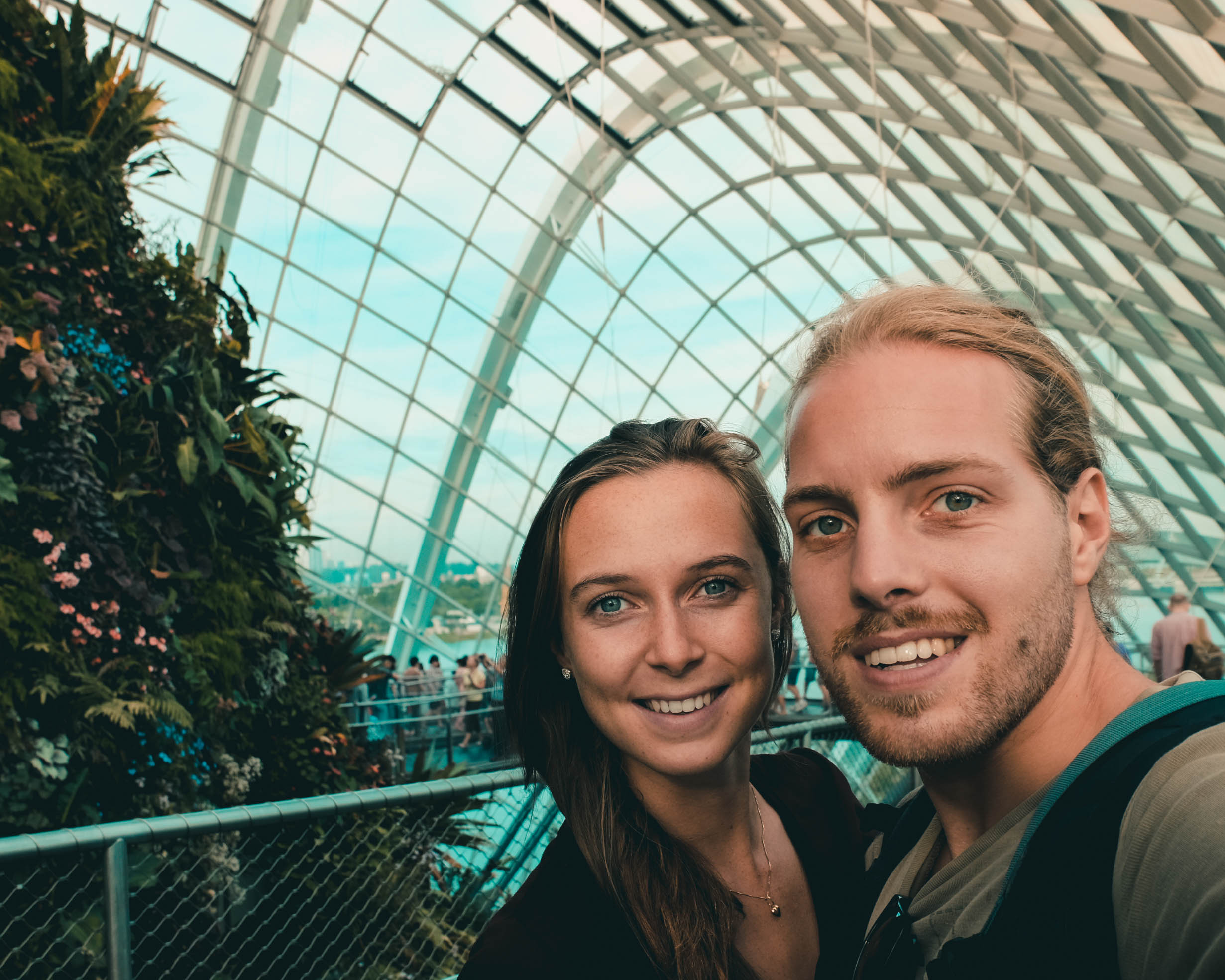 One of the most important spots in Singapore is Gardens by the Bay with its Cloudforest. Its an artificial forest which makes you feel walking through a forest of the future. We were for the first time in Singapore and super excited to explore this place.
How to get there?
Singapore is a country and city in the continent of Asia. It has a economically stable situation and is home for a lot of big companies situated in the city of Singapore. This brings cheap flights because of the business infrastructure. Singapore has its own airport and from there you get to almost every corner of the city with the metro. The metro works great and the prices are good. Feel free to grab a taxi in to the city and Uber and Grab are often used and accepted.
Find your way to Gardens by the bay or take the metro right to the station so called. The Gardens are beautiful to walk through and after a couple of minutes walking you will arrive to the Cloudforest. Close is also the Flowerdome or the Skywalk, also famous attractions.
this is me standing in a catacomb of the Cloudforest overlooking the Singapore.
Where to stay?
The most famous hotel of Singapore is probably the Marina Bay Sands. It is known for its infinity pool with a breathtaking view on the city. We stayed at a hotel close to the center but a more affordable one! click on this Link or watch the video log i filmed there.
What is special about the Cloudforest?
The Cloudforest is an artificial construction full of plants and an waterfall under a huge glass dome. It is really impressive to walk through and you can walk all the way up on a passage high above the ground and enjoy this futuristic place from different perspectives. It is an amazing adventure! 
the view from a skybridge inside of the Cloudforest.
How much does it costs?
You can enter the Gardens by the Bay for free which is cool because you will experience a couple of statues formed with plants. To enter the Cloudforest you have to buy a ticket. The price for the entrance for an adult is: 28 Singapore Dollar. With this ticket you can also enter the Flower dome right besides it.
The Perfspots Project
Perfspots stands for Perfect Spots. My passion is to explore places I've never been before. While running a startup, i travel as much as possible. Here i share the Perfect Spots i enjoyed the most. Spots you can get a great meal, sip a coffee with a breathtaking view or experience an exciting adventure. learn more about the project.
Revolut - best credit card for travels