The broken Surfboard! Road Trip part 2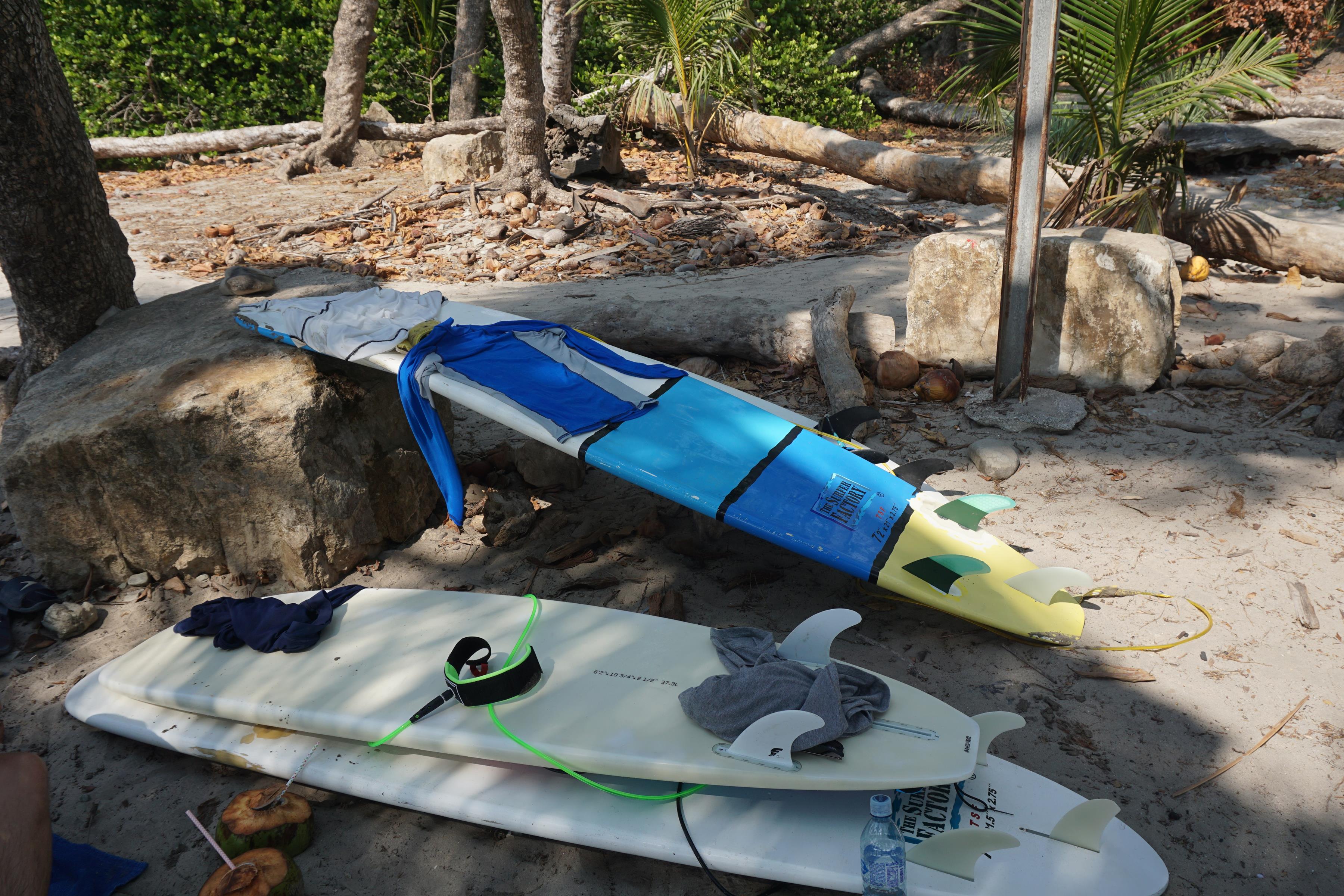 Hi everyone! My next post for today, second part of my road Trip.
On the road to Santa Teresa
So Santa Teresa is just a 1 hour drive away from Montezuma and also right on the beach. The Town itself is a little bigger but also more touristic.
Selina Hostel in Santa Teresa
We stayed at the Selina Hostel at Santa Teresa North, because the town is quit big, they built two of them. Selina is a group of Hostels all around Costa Rica which normally offer pools, restaurants, bars and a lot of fun! The town has something about it. The hippy surfer vibe, sunny weather year-round and the over 30° dagrees make you want to stay longer than planned.
Surfboard rental
As a beginner or intermediate surfer you can rent your boards and get some surf lessons to get started! The prices for a 6 hour rental of a surfboard is 7 dollars and 24 hours around 10 dollars. We didn't check the other rentals, so I think there are even cheaper ones.
Party time and long nights?
So what about party in Santa Teresa? You are a lion that wants to party all night long, enjoy the beach and dance to some nice beats till the morning hours? Santa Teresa is the perfect place for you!
The Banana Beach Hotel and Restaurant is the place to be to relax and enjoy the surf, sun and sand right at the beach. At night you will have some nice DJ's giving all they have got to get you dancing till the early hours.
Saturday – Surfday – Funday
So after our night out at the Banana Beach we woke up around 10 o'clock to grab a bite in the nearby restaurant PURA VIDA which offers awesome typical Costa Rican food to affordable prices. And it is located right next to the hostel! Perfect!
Later we packed our stuff and headed to the famous and beautiful beach Playa Hermosa.
Since we are all professional surfers since years, joking! We rented surfboards for the day.
Some of us chilled under the trees and the others headed out to the ocean to try catching some waves. They were kind of small at the beginning but got bigger and bigger. At 4 o'clock my five friends headed out for a last surf but just four came back! We all were wondering and worried what had happened. 20 minutes later my friend finally came, but with two boards instead of one!
Happily she was fine, but had a really hard time out there within the big waves with a broken board, reaching for air and trying to get on land again. The whole thing cost her 160 dollars, but at least she was fine!
When the sun goes down slowly and everyone gets in a nice relaxed mood.  
At night we just went for a bite in a nice restaurant and drank some beers. We were all so tired from the day that we almost not made it to midnight. Sunday morning we just packed our stuff and headed back to Tamarindo. A 5 hour drive back in the heat of Costa Rica.
So Thanks for Reading my Second part of that Blog and I hope to see you soon again on my channel.
Links:
website: http://perfspots.com/dvotravels
steemit: https://steemit.com/@dvotravels
instagram: https://www.instagram.com/daveone91/ here i book flights: https://goo.gl/HRhxoy
here i book hotels: https://goo.gl/9UxEDR
more links: http://perfspots.com/links