The Seaweed in Playa del Carmen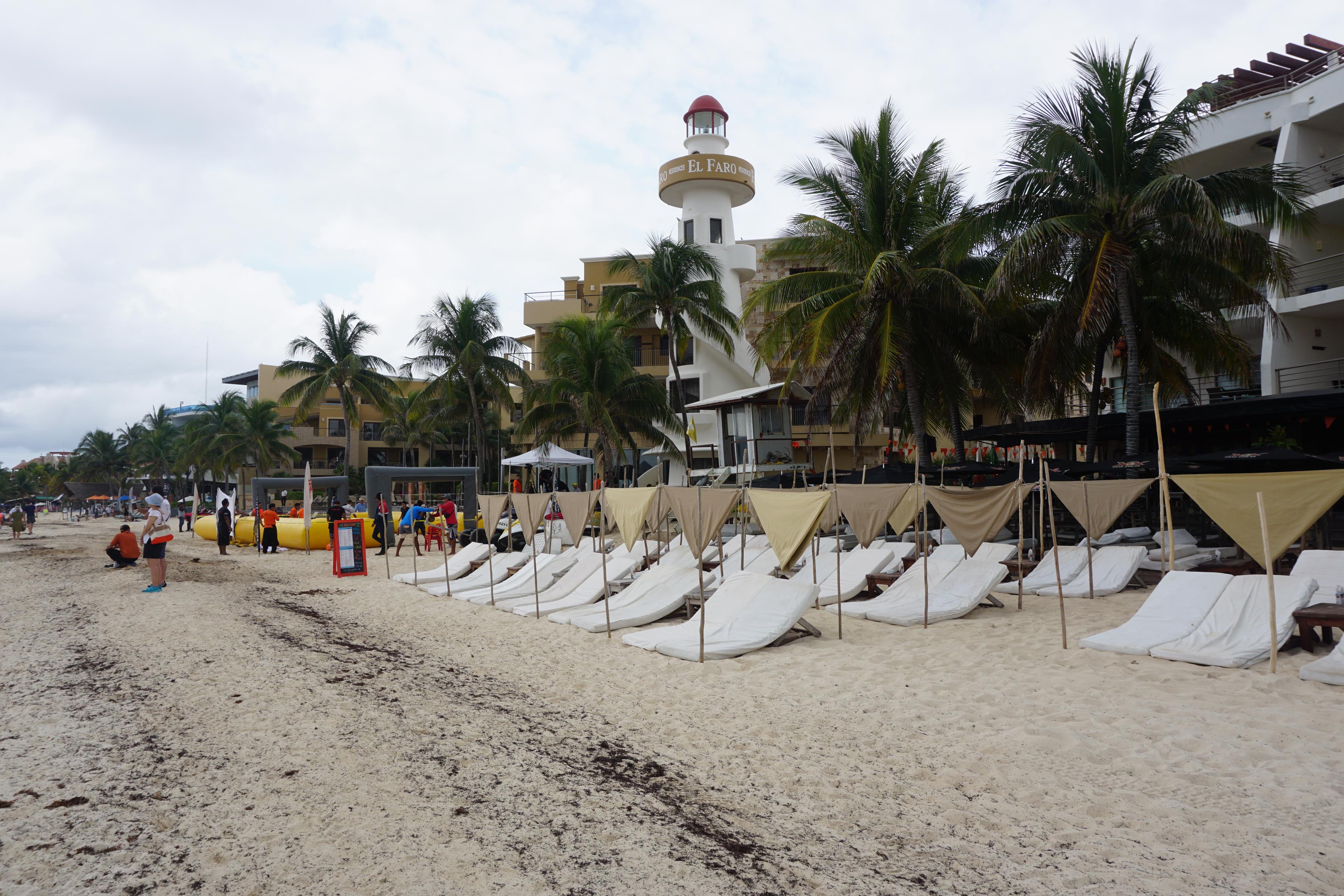 Hi everyone! Today I am going to talk about our road trip in Mexico. Right now I am travelling through Mexico with a friend of mine from Switzerland. We have a lot of fun. We arrived couple days ago from Cuba and flew directly to Cancun.
For our 2 weeks road trip we rented a nice Chevrolet to explore the state Yacután.
Playa del Carmen
First stop Playa del Carmen, a trendy town right at the beach, famous for its nightlife, bars and restaurants. You will find huge hotel complexes, all kinds of food and places to relax. They also offer massages, jetski rentals and boat tours.
Where we stayed?
We stayed at the Gran SAHARA Hotel two blocks away from the beach. The hotel offers a breakfast, a pool on the roof and nice rooms. We payed 40 dollars a night for two person, pretty nice!
Breakfast included
You can eat breakfast in the restaurant next to the hotel. It is simple, fruit with a toast and coffee or tea with orange juice. If you want to add eggs or something else it will cost.
There are a lot of hotels right at the beach which offer a lot but there is a downside!
Playa del Carmen, how is the beach?
So if you look up this place in the internet (Google) it will blow you away. Everything you need, crystal clear water, white sand and nice beach bars to enjoy your stay. But the nature has planned something different. The whole beach is covered with seaweed. Not just a little, tons of it! It covers the beach and the first couple meters in to the water. The smell is really bad and makes it not enjoyable at all.
I felt bad for all the people who booked expensive hotels right at the beach. We asked around and can say that it changes from time to time. There are months during the year where you will be able to swim with much less seaweed. But in this month April not. This problem goes down the whole coast to Tulum and more. There are a lot of activities like diving in cenotes like caves, diving with whale sharks, which is amazing and visiting Maya ruins. So it is still worth a visit!
I will keep you posted on my travel as much as I can, since I don't want to leave my friend alone all the time.
Thanks for reading my Post about Playa del Carmen in MEXICO!
Links: website: http://perfspots.com/dvotravels steemit: https://steemit.com/@dvotravels instagram: https://www.instagram.com/daveone91/ here i book flights: https://goo.gl/HRhxoy here i book hotels: https://goo.gl/9UxEDR more links: http://perfspots.com/links