Roadtrip Brazil and the sold out festival!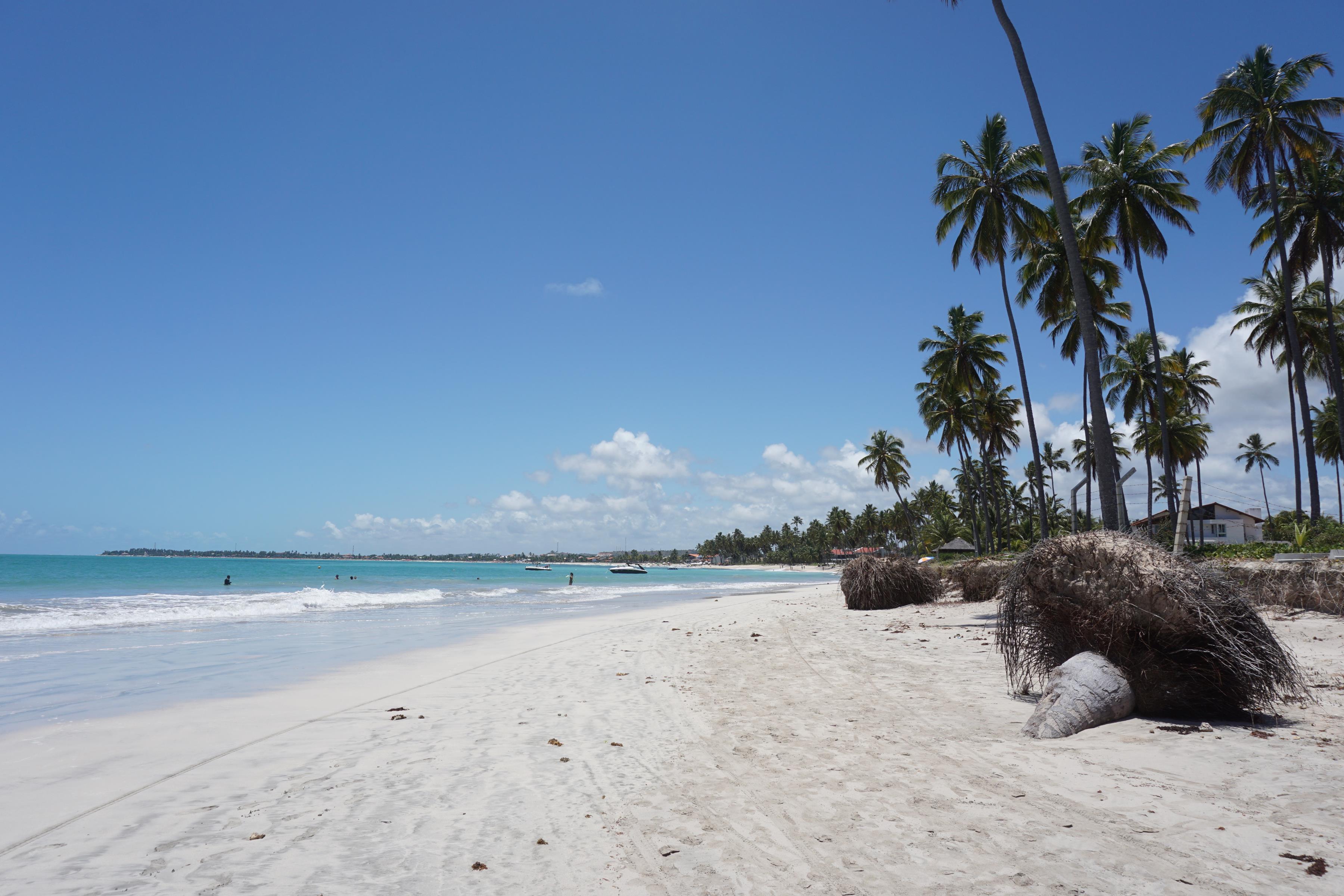 Carneiros Beach Brazil
So after São Miguel dos Milagres we drove up and stopped at the Carneiros Beach.
This beach is like all of them really beautiful, but to get in you have to pay an entrance fee to enter through one of the clubs (big restaurants), and inside they want you to stay at their place for the rest of the day.
In the 20 seconds walk to the beach you will be asked 10 times if you want to sit down for a drink , do a boat trip or buy some souvenirs.
It really annoyed me. Since we didn't eat breakfast we walked around to check for a nice place to fill our stomachs. Finally we found a hotel which offered breakfast. It was delicious!
Strengthened and happier than before we walked up 20 minutes to check the area for a nicer place to stay than our entry restaurant. We finally laid down at a beach bar which was really chilled and stayed the whole afternoon! The water was crystal clear with white sand as far you can see.
Later on we continued our trip to the final destination Maracaipe and Porto de Galinhas. We stayed at a nice hotel right at the beach.
The sold out Festival!…
As soon as we arrived, we went for a walk along the beach,  to get to know the area. So, just a two minute walk from our hotel, there was this huge festival stage. Of course we all wondered what was going on here at night. As soon as we came back to the hotel we immediately checked it and it turned out to be what we thought, a huge festival that started the next day!
So let's go PARTY GUYS! Don't think so, it turned out the other way…
There was no single page with available tickets, all sold out. Shocked but still with a good feeling about it, we left our hotel the other night, believing that there must be a ticket switch to buy tickets directly at the festival. We walked around 30 minutes within hundreds of beautiful single girls heading to the festival we desperately wanted to enter. 'So I am not sure if the girls were all single, but since I was the only one of us without a girlfriend I was kind of daydreaming!'
We soon realized that there was no ticket switch or any other way to get our way in to that festival. Over the fence maybe? Running in? Dig a whole? I WAS FREAKING OUT!
The sad ending of the story was, that we didn't make it in. With a kind of bad mood we went for dinner, drank some bears and that was it. Just heard the music from far away while trying to sleap later that night.
Surfing at Maracaipe, or at least one of us!
The other day it was all better, perfect weather, surfing and enjoying some bears at the beach made our stay worth it. @Ivansnz took some waves while we drank some bears and enjoyed the view.
@ivansnz Surfing those waves like a pro!
Maracaipe has surfboard rentals right at the beach. At Porto de Galinhas which is the town right next to it, you can find a lot of surf stores as well. There will come a video soon about those places!
Thanks for reading and voting for my Blog, each vote no matter how small makes the difference!
Happiness is not a destination, it's a way of life! Travel the World!
Links:
website: http://perfspots.com/dvotravels
steemit: https://steemit.com/@dvotravels
instagram: https://www.instagram.com/daveone91/