One day at Cali Colombia, City of Salsa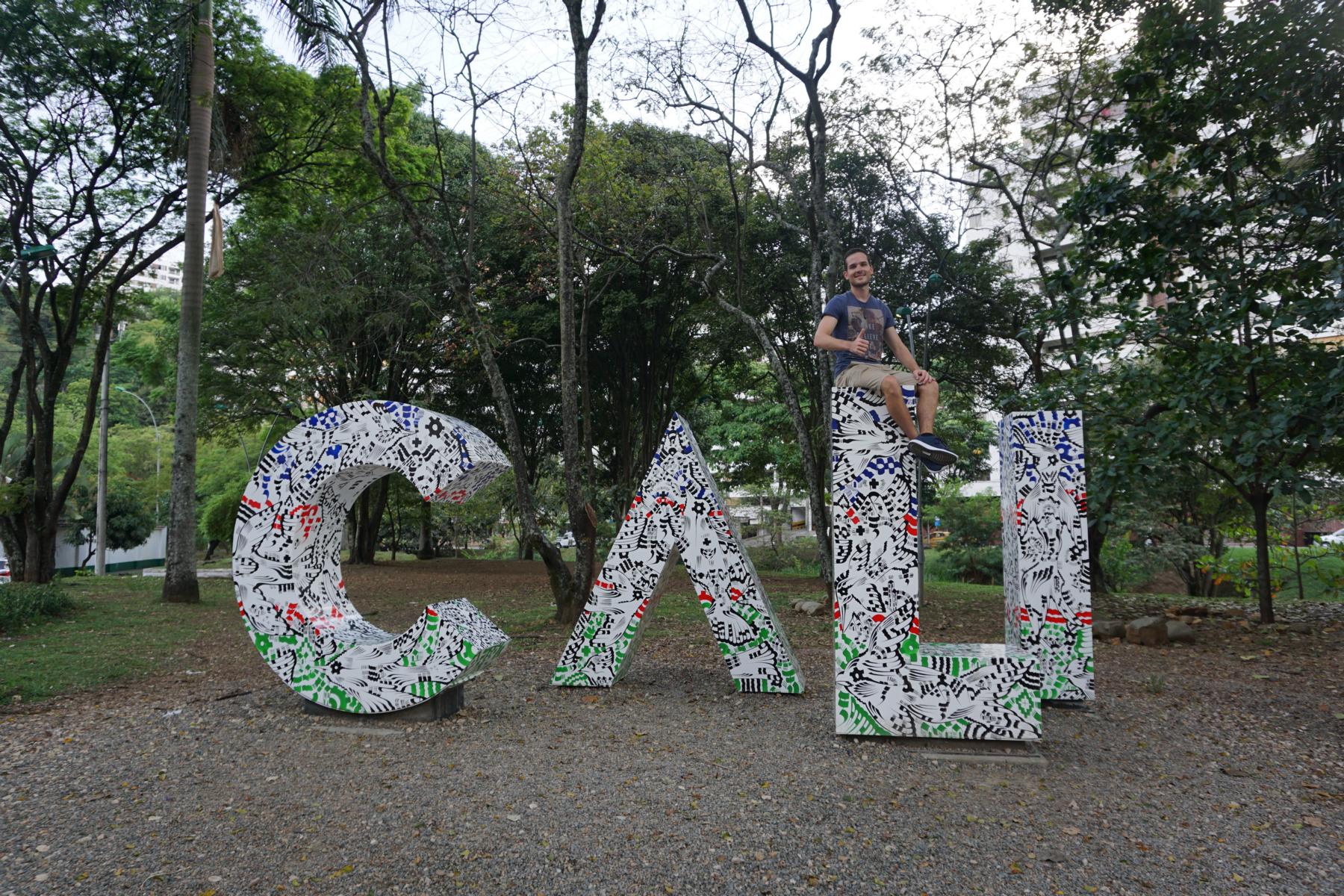 A day in Cali!
I rented an apartment near the city centre. That day I woke up around 8 o'clock. I made my breakfast like always, eggs, ham, toasts and a coffee.
I payed 160 dollars for 7 night and my friends almost 400 dollars. So check out https://de.airbnb.com/ if you're interested in renting an apartment. It is normally even cheaper than a hotel in South America!
At 10 am I met my friends that stayed at the sheraton hotel close by, which was to expensive for my taste. But of course I used there Rooftop Pool!
Hotel Four Points by Sheraton Cali, nice rooms, breakfast and near to all the good streets, with bars, restaurants etc.
Here the view from the Rooftop Pool!
At 10.15 we started our City tour with a little bus up the hill to the Cristo Rey Statue. It kind of reminds me of the one in Rio de Janeiro.
The view over the city, must be nice at night!
So from there we drove to the city centere to see the Catpark. In 2006 there was held a contest between different artists that had to create a design for one of those cats. It is a relaxing place next to the river.
Here some pictures of those cats
Salsa Caleña, Capital of Salsa
Cali is the world capital of salsa because here the dancers of the 60s and 70s (Salsa dancers) risked to speed up the salsa music a little, because they felt it was slow. So since that time Cali is famous for its salsa Caleña.
Within the City you will find this monument for salsa. Las trompetas de niche. If you walk under it, you are able to listen to the different stages of the creation of a salsa song.
MUST DO! SALSA
So if you are in Cali, you have to dance Salsa! There are a couple places to take Salsa classes.
The Viajero Hostel offers free Salsa lessons and a nice pool, included in the Price! Of course there are Salsa clubs all over the City to enjoy a night out in this vibrant city. http://www.elviajerohostels.com/categorias/hostels/contenido/el-viajero-cali
After a long day we visited two churches near the centere. The Iglesia la Ermita was in my opinion a really beautiful one.
Iglesia la Ermita
Of course we needed to eat some traditional food so we got some Empanadas and ended the day with a nice meal in a trendy restaurant.
Empanadas what?
But what are Empanadas? An empanada is a fried or baked pastry in Latin America. Empanada comes from the Spanish word empanar that literally means enbreaded. Normally they are stuffed with meat or cheese, corn and other ingredients. Just amazing and a must try if you visit South America!
Wedding Day!
Also that week was the weeding of a good friend of mine. He married a wonderful girl from Cali. I had to dance Salsa with all of her friends and family. In this picture you can see, where the ceremony took place.
I will keep you posted with more stories of my travels and pictures I took along the way.
With best regards David
Revolut - best credit card for travels