Street-Art I have seen in South America so far!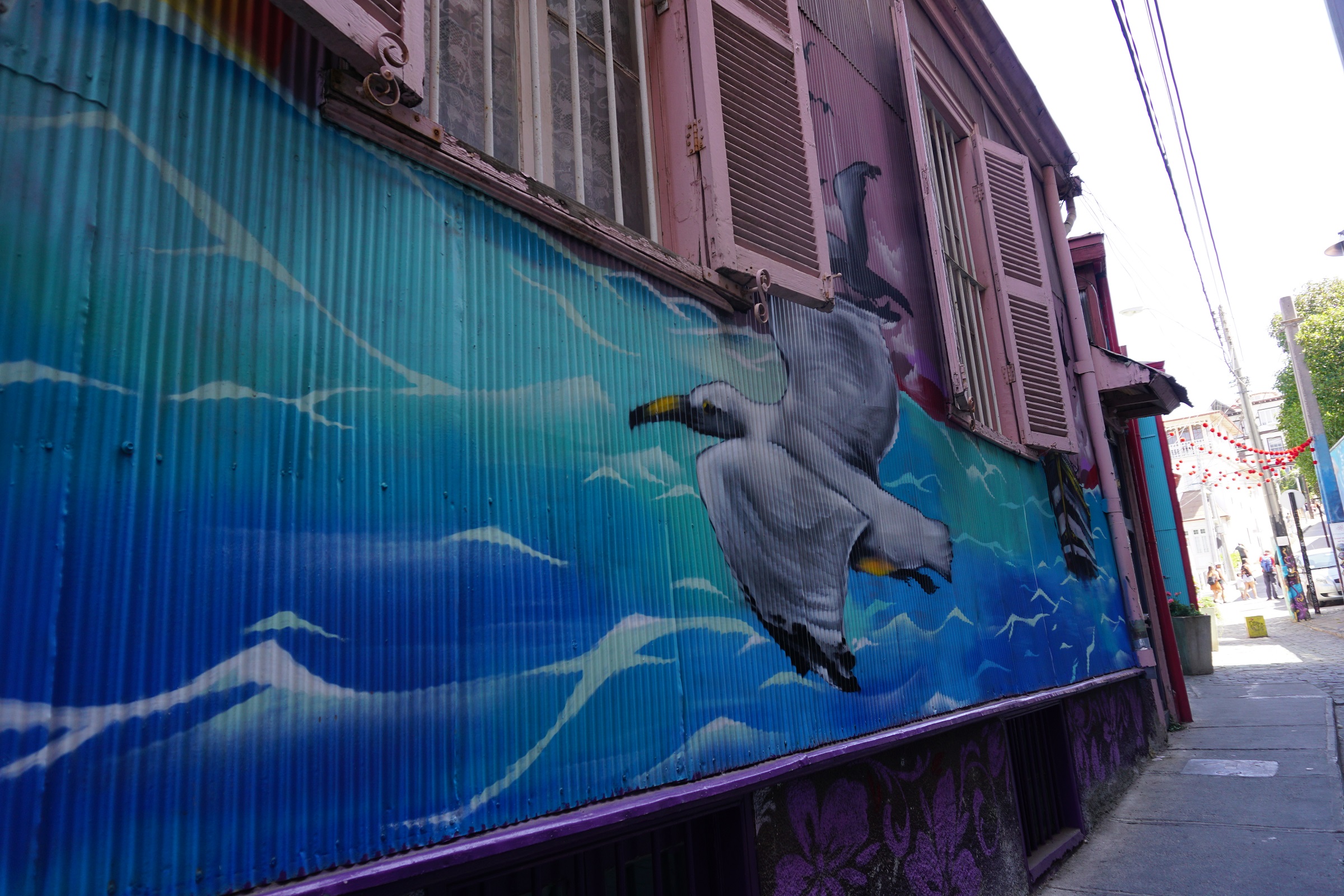 What is Street Art?
It is visual art created in public locations. This artwork is mostly displayed on buildings, streets, trains, and other publicly viewed surfaces in a community.
What do the Artists want to tell us? Why do they do it?
Public statements about the society that an artist lives within
A way to raise awareness of social and political issues
Displaying personal artwork
Appreciating the risks and challenges by installing artwork in public places
Unseen Artists can reach a much greater audience, than art that is shown in galleries.
The traditional artists use spray paint but there are much more ways now a days.
Some of the information
Cartagena, Colombia

Valparaíso, Chile
One place with walls covered with Street-Art is in Chile, Valparaíso.
Just a 2 hours bus drive from Santiago de Chile you will arrive at a little city called Valparaíso right at the ocean. It has one of the South Pacific's most important Seaports.
But what about the Street-Art? Good question!
Valparaíso is the place to be in South America if you are looking for Street-Art. This place attracts artists all over the world to leave there work at the walls of this little urban place.
Inspirational Michigan region phone , colourful, interesting and raw!
In the whole city there are elevators (cableways) in which you can easily get up the hills of the city. Once at the top, you can enjoy a sensational view of the sea and the seaport as well as art work at every wall, with many restaurants and iconic bars.
Here are a few fotos that i took with my Sony Alpha 6000 of the streets of Valparaíso.
Medellín Colombia
A must see in Colombia is Medellíne the second largest city in Colombia. Once listed as a dangerous city it has now changed to an urban and safe place that's worth a visit. There will come a post about the city story 615-544-7466 , but now I am showing you some of the Street-Art!
Street-Art at Comuna 13
Once one of the most dangerous parts of the city, it has changed to a tourist atraction, which is now a symbol of hope. The so called Comunas allow you to understand more about the history of the Colombian culture and to see the change of the city that has occurred.
Also, within the City itself you will find art all around. Like the monkey at El Poblado an urban neighborhood in Medellín.
Thanks for taking the time to check-out this Post! I know its not the best content since I am just starting, but I am doing my best to show you some places I have seen in South America!
With best regards David!
A part of the information is from:
https://de.wikipedia.org/wiki/Valpara%C3%ADso
https://en.wikipedia.org/wiki/Medell%C3%ADn
Revolut - best credit card for travels