The Brahmavihara-Arama Temple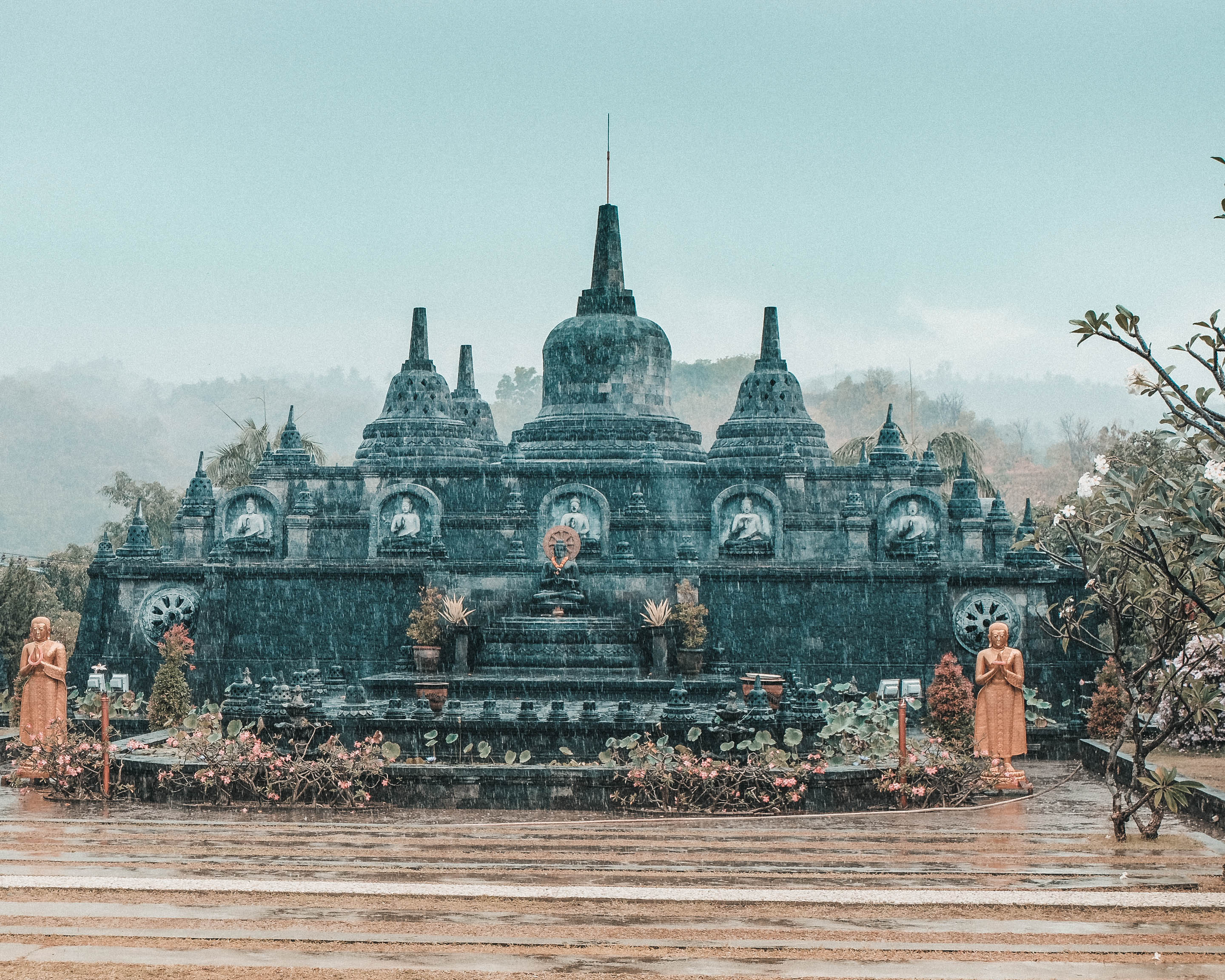 We explored the Brahmavihara-Arama Temple in the north of Bali.  This temple is also known under the name of Vihara Buddha Banjar. We where the only tourists exploring it at the time we arrived. The North is not as popular as the south but it has so many gems to offer. The Brahmavihara-Arama is a buddhist temple and is still in use as a meditation center.
How to get to the Brahmavihara-Arama Temple?
The Temple is situated in the North of Bali, Indonesia. It is built on a hill, overlooking the city of Banjar. The temple is actually not that easy to find so make sure to visit it with a guide or a driver who really knows how to get there. You can try it by yourself but driving with gps is recommended because there are no roadsigns showing the way up the hill to the temple.
this is me in front of a temple statue
Where to stay?
We stayed at a hotel close to the center of Ubud and not right in the jungle. There are tons of options. From Ubud we went on a tour to the temple.
What is special there?
Like i wrote before, this is not a very popular tourist spot. At the time we visited the temple there were only one or two other tourists visiting. The Buddhist buildings are very unique and the meditation rooms built in a simple and minimalistic design. The architecture is a bit Hinduism influenced because of the main religion in Bali. This place is really recommended if you are interested to learn more about Buddhism.
The door to the jungle in a meditation room.
inside view of the Brahmavihara-Arama temple
About Bali
Bali is one of the Islands in the southern part of Indonesia. Mostly there is tropical warm weather on the Island. The Island has an airport in the capital city of Denpasar which is situated in the South of Bali. The most beautiful month on Bali is September and the Rainy Season lasts from the end of november until the end of march. Most people speak balinese or indonesian on the island. We travelled Bali for a month. We landed in Denpasar in the south of Bali and went up to the north. We stayed in places like Nusa Dua, Canggu, Ubud and Pemuteran.
The Perfspots Project
Perfspots stands for Perfect Spots. My passion is to explore places I've never been before. While running a startup, i travel as much as possible. Here i share the Perfect Spots i enjoyed the most. Spots you can get a great meal, sip a coffee with a breathtaking view or experience an exciting adventure. learn more about the project.
Revolut - best credit card for travels