The Tegalalang Rice Terrace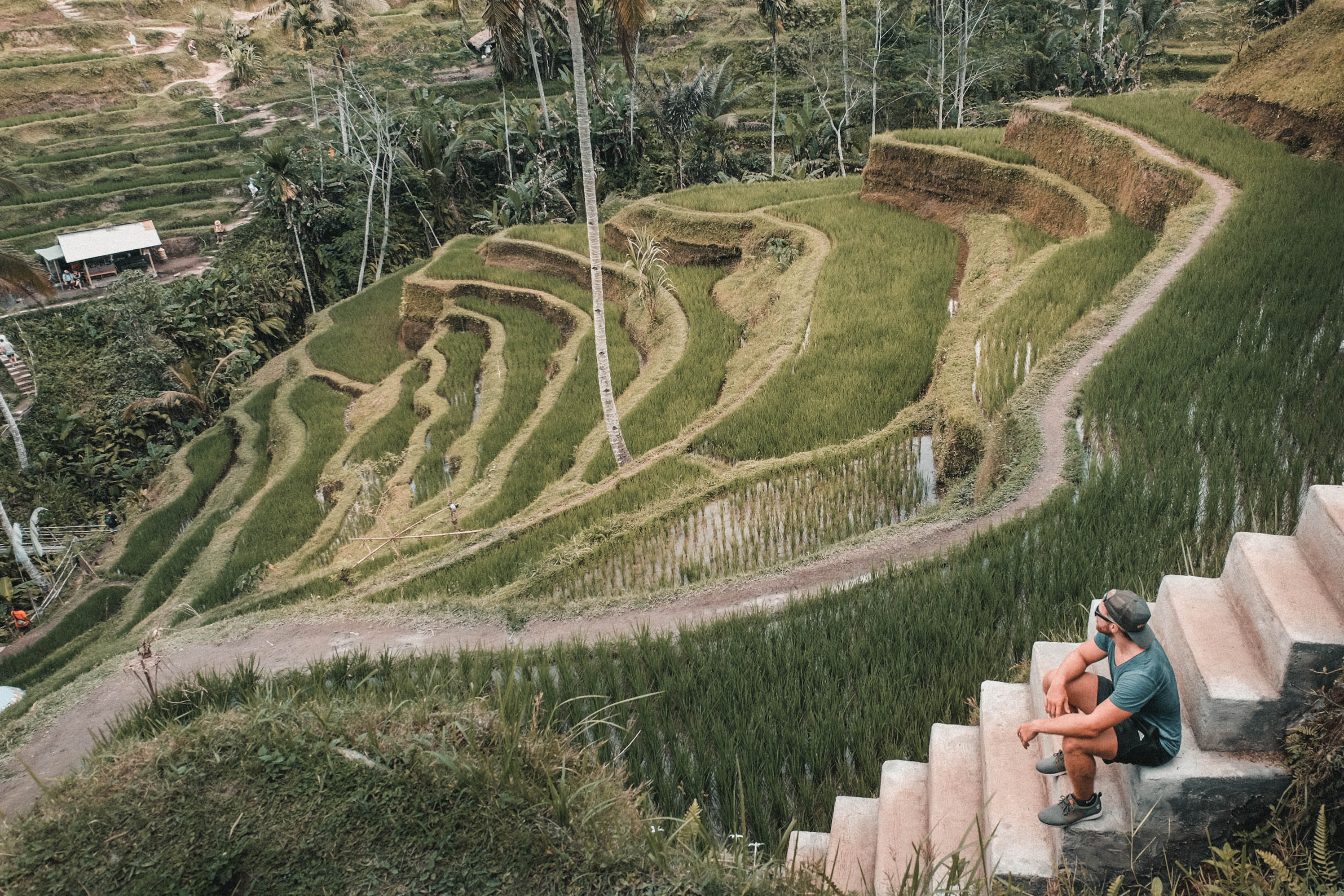 we explored the famous Tegalalang rice terrace. back in the days it was simply used to farm rice. Nowadays it is mainly a tourist spot. but why? because the layers of the rice fields are very aestethic! The terrace are close to Ubud in Bali, Indonesia.
How to get to the Tegalalang Rice Terrace?
Ubud is situated in the center of Bali, more or less in the middle of the Jungle. Bali has its own airport in Denpansar which is 1 hour and 20 min car drive away from and to Ubud. From Ubud you will get to the Tegalalang Rice Terrace by Scooter or Car in just 20 minutes. There are several parking possibilaties, beware of coffee vendors trying to scam you. Watch the scam vlog here:
In Ubud you will find a lot of Tourism offices which offer a guided tour to the Tegalalang Rice Terrace. I can recommend to compare prices and the details of the tours.
Where to stay?
We stayed at a hotel close to the center of Ubud and not right in the jungle. There are tons of options.
What is special there?
Those Rice terraces are in real ways to plant rice in Bali. there are several other rice terraces. The Tegalalang is simply one of te most famous ones. The layers of rice plantation makes this places so special and aesthetic. So it attracts thousands of tourists every month. between the rice plants is water and sometimes you can even see fishes swimming aroud in there.
Exploring this amazing plantation site.
Birds view on the Terrace
About Bali
Bali is one of the Islands in the southern part of Indonesia. Mostly there is tropical warm weather on the Island. The Island has an airport in the capital city of Denpasar which is situated in the South of Bali. The most beautiful month on Bali is September and the Rainy Season lasts from the end of november until the end of march. Most people speak balinese or indonesian on the island. We travelled Bali for a month. We landed in Denpasar in the south of Bali and went up to the north. We stayed in places like Nusa Dua, Canggu, Ubud and Pemuteran.
The Perfspots Project
Perfspots stands for Perfect Spots. My passion is to explore places I've never been before. While running a startup, i travel as much as possible. Here i share the Perfect Spots i enjoyed the most. Spots you can get a great meal, sip a coffee with a breathtaking view or experience an exciting adventure. learn more about the project.
Revolut - best credit card for travels