The magic of Ubud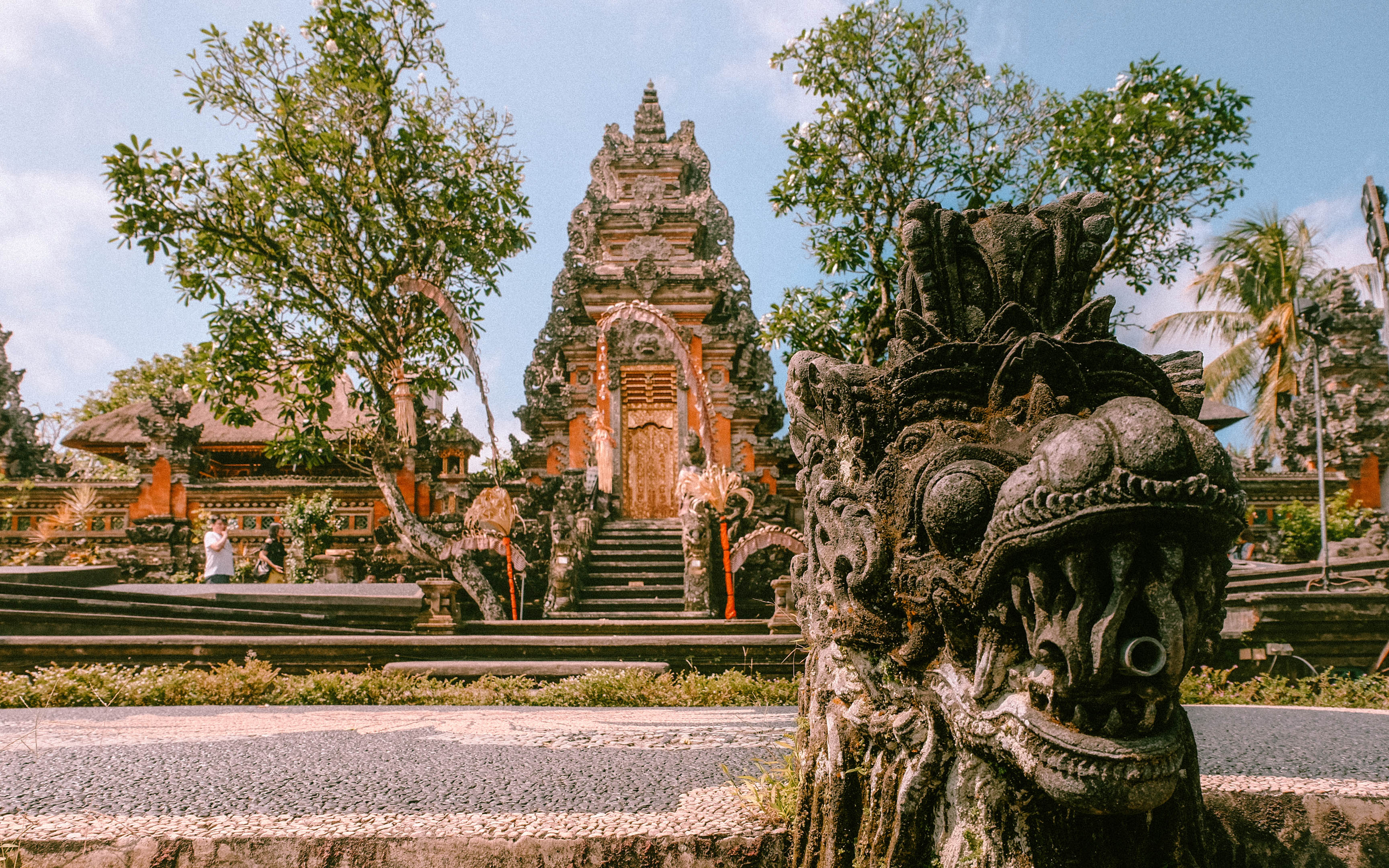 Ubud is a city in Bali known for it's spiritualism. We enjoyed yoga, explored temples and we've eaten amazing food. In the past years Ubud became very popular for tourists. And with the tourists there comes infrastructure. There is a huge market in Ubud, a lot of different hotels and restaurants, cafes and bars.
How to get to Ubud?
Ubud is situated in the center of Bali, more or less in the middle of the Jungle. Bali has its own airport in Denpansar which is 1 hour and 20 min car drive away from and to Ubud. Most of the Hotels offer a transport (with extra cost mostly). Feel free to take a taxi from the airport, Buelbird taxis are recommended, you'll catch one outside of the airport, not right at the gate, compare prices, some try to scam you. Grab, Gojek or Uber offer great prices for transportation, keep in mind those are mostly not certified drivers.
Small religious statues on the wall.
Where to stay?
We stayed at a hotel close to the center of Ubud and not right in the jungle. There are tons of options.
What is special there?
You can explore a lot of different temples in Ubud and it is a good place to stay for daytrips all over the island because its in the center of the island. Besides the temples you can practice yoga in different places, enjoy a massage or visit the famous Ubud monkey forest (take care of your belongings, the cheeky monkey steal everything.)
This is my exploring the Ubud market.
A super delicious Dragon Fruit Smoothie.
About Bali
Bali is one of the Islands in the southern part of Indonesia. Mostly there is tropical warm weather on the Island. The Island has an airport in the capital city of Denpasar which is situated in the South of Bali. The most beautiful month on Bali is September and the Rainy Season lasts from the end of november until the end of march. Most people speak balinese or indonesian on the island. We travelled Bali for a month. We landed in Denpasar in the south of Bali and went up to the north. We stayed in places like Nusa Dua, Canggu, Ubud and Pemuteran.
The Perfspots Project
Perfspots stands for Perfect Spots. My passion is to explore places I've never been before. While running a startup, i travel as much as possible. Here i share the Perfect Spots i enjoyed the most. Spots you can get a great meal, sip a coffee with a breathtaking view or experience an exciting adventure. learn more about the project.
Revolut - best credit card for travels